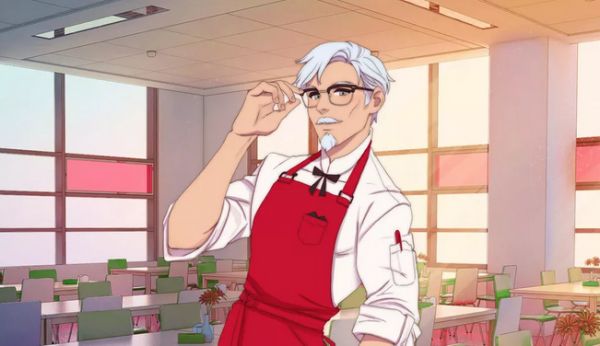 KFC is no stranger to bizarre promotions- remember the prom corsage that included a piece of chicken? Their newest venture is a collaboration with game developer Psyop called I Love You, Colonel Sanders! It includes an anime version of the Colonel as a young man, nevertheless sporting his signature white hair and goatee. The actual young Harland Sanders looked like this. The game involves a lot of chicken, too. A description from Steam includes the game trailer.
I Love You, Colonel Sanders! A Finger Lickin' Good Dating Simulator follows you, a promising culinary student, as you try to date your classmate, Colonel Sanders. Throughout your journey, you'll be faced with life-changing decisions that will affect your chances of friendship and love. But be careful! Your choices have real consequences with real animated characters' feelings at stake.

Do you have what it takes to survive culinary school? Will Colonel Sanders choose you to be his business partner? Or maybe even so much more? Find out in the most finger lickin' good dating simulator ever created—a game that KFC actually made.
The game will be available for free beginning on September 24. -via Uproxx